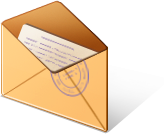 We'd love to hear from you - whether you want to talk about your web design requirements, project plans or hosting queries.
Fill in our form, pick up the phone, email, write. You could send us a carrier pigeon - we have a nice pigeon pie recipe here.
Creative-i-Design
e: info@Creative-i-Design.com
m: 07752 253 254
We've given up on faxes: nobody's asked for our fax number for ages, so we unplugged it.